About Willeri Dental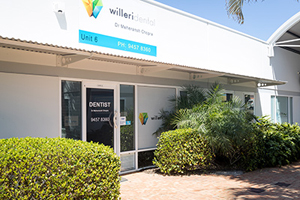 Willeri Dental was founded by Dentist Dr Rob Borserini in 1999. Since that time, our reputation for providing high-quality dentistry in Parkwood and Canning Vale, Riverton and Willetton has grown.
Dentist Dr Meheransh Chopra and his dedicated, caring team have continued this tradition with a goal to empower patients with the knowledge they need to make the best decisions about their dental care.
Using a preventative approach, we always start by recommending smaller, less invasive treatments. Our patients appreciate the opportunity to collaborate with Dr Chopra on their care plan and keep their smiles healthy.
Perfect Timing for Every Schedule
Conveniently located near the Stockland Riverton Shopping Center, our appointments are easy to work in with your everyday shopping errands. By offering flexible appointment times including evenings and weekends, we can accommodate the needs of even our busiest patients.
The many advantages of choosing Willeri Dental for your dental care include:
Friendly, personable doctor and staff
A family-friendly atmosphere
Patient-doctor treatment co-planning
Flexible scheduling with same-day and Saturday appointments
Recognizing your time is valuable
We understand how important your time is to you. No one enjoys sitting in a reception waiting on a dentist who is running late. Plenty of time is allowed for each appointment and if we do ever happen to fall behind schedule, you will be the first to know to minimise your inconvenience. In fact, we are so confident in our punctuality that if we are running more than 10 minutes late, you can have a complimentary coffee on us!

OUR PROMISE TO YOU
Our practice is built on people, and we will always focus on the qualities that make you feel comfortable, welcome and supported. The fact that most of our patient base is built on referrals and recommendations is a testament to our commitment to these values.
Providing High-quality Dentistry
We recognize and appreciate the importance teeth have in our life. Therefore, we are very passionate about keeping up to date with the latest in dentistry.
We do so by regularly attending professional development courses and working with specialists to achieve optimal outcomes for our patients. Equally importantly, we maintain meticulous levels of infection control and we only use the best local laboratories to source our work from.
Supporting your choices
We understand that visiting the dentist can be a challenge. When you come in for your visit, it is not our role to criticise you for not brushing or flossing your teeth. Rather, we commend you just for making it into the chair and work with you to create a healthy mouth that you can be proud of. We understand that people make dental decisions based on their own circumstances. For this reason, we only ever present you with options, and we leave the final choices to you, with no judgment.
Taking the time
When you come to our practice, you are our top priority. We take as long as we need to sit down and have a chat with you to ensure that we are aware of all your concerns. Doing so allows you to have a shared understanding of the appropriate treatment options and it enables you to make informed decisions. We also follow up all our patients that have had dental care just to make sure they are not having any issues. If you are having any trouble following your appointment, we will endeavour to fit you in as soon as possible.
Ready to schedule your appointment?
Contact us today! We offer late opening hours and free, convenient parking on-site.

Dentist Parkwood, Canning Vale, Riverton and Willetton WA | (08) 9457 8360