Invisalign® at Willeri Dental
Invisalign® is the clear alternative to traditional metal braces and is available at Willeri Dental. The treatment consists of the use of a series of clear aligners that straighten our teeth. Invisalign® corrects the same issues as metal braces but with many additional benefits: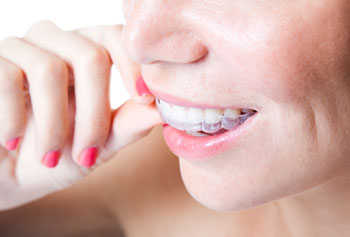 Invisalign is aesthetically pleasing. As the aligners are clear and nearly invisible, they offer a much more aesthetic solution to straighten teeth. This aspect is particularly appealing to adult patients.
Invisalign aligners are removable. It's easier to maintain good levels of oral hygiene.
Invisalign typically requires less adjustments than metal braces, and you can spend less time at the dentist
Conventional braces are fixed to your teeth for the duration of your treatment. This often can result in increased discomfort as there may be issues with food getting trapped in the braces. There are no dietary issues with Invisalign as the aligners are removed while eating.
Getting Started
The first appointment consists of an evaluation of your smile and your bite to assess if you are a good candidate for Invisalign® treatment. We also discuss the process and make sure that it will fit into your lifestyle. During this appointment, we may also check the health of your teeth and gums to determine if they are healthy enough to proceed with Invisalign treatment.
We then take accurate impressions of your teeth and conduct a 3D analysis to determine the length of treatment and the potential outcome. At this stage, you return for a follow-up appointment to determine if you are happy with the projected changes to your smile. At this appointment, we can also give you complete quote.
Invisalign i7 for Minor Problems
Many patients do not have complex orthodontic issues and only require minor work to their front teeth to improve their smiles. Invisalign® has now introduced a system that uses clear aligners to correct minor aesthetic issues with our front six teeth. This is a much faster and discrete treatment option than metal braces and results can be achieved in as little as six months. Of course, not everyone is a candidate for this option.
Wearing Your Aligners
Once you begin your treatment, you need to wear the aligners at least 22 hours a day. The aligners will be changed every 1-2 weeks depending on the progress of your treatment. It is essential that you attend your regular maintenance appointments so that we can track your progress and ensure you have an optimal outcome.
FAQ
Can people of all ages get Invisalign®?
While we don't provide the treatment for children, teens and older can get Invisalign®. One of our patients is in her 70s so it's never too late to straighten your smile!
How long will my treatment take?
At the completion of the diagnostic process, we will let you know how long we expect your treatment to take. Generally speaking, if you have teeth that are twisted or rotated, your treatment time will be longer.
Does it hurt to wear the aligners?
While it's certainly not painful to wear them, you may feel some discomfort, which is just the pressure you'll feel as your teeth move.
How often will I need to come into the office during my treatment?
Usually, we see patients every third set of aligners (or every 3-6 weeks) to ensure movement is tracking the way we want it to.
Do I have to restrict what I eat?
No, that's one of the most attractive benefits of Invisalign®. Because you can remove your aligners before meals you can eat whatever you'd like.
If my particular case is more complex will you refer me to another provider?
There are times when a patient's orthodontic needs would be better met elsewhere. If those situations, yes, we can refer you to a local orthodontist.
Will I need to wear a retainer when my treatment is completed?
Yes, after all you've made a considerable investment in your smile so you will want to retain your results. We recommend that you wear your retainer as often as possible to maintain your results and for at least 8 hours per day. Many clients choose to wear the retainer while they sleep.
Do you ever extend the treatment time?
Using our technology and experience we do our best to our patients achieve their desired result in the initial treatment period. Of course, every person's teeth are unique respond to the treatment differently. If you're not completely satisfied with your results at the end of your treatment you have the option of us making a refinement.
Contact Us Today
If you have any queries about Invisalign®, please contact us for a complimentary consultation. Same-day visits are available.

Invisalign® Parkwood Canning Vale, Riverton and Willetton | (08) 9457 8360