Dental Implants at Willeri Dental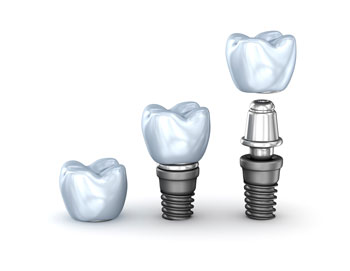 If you're missing a single tooth, multiple teeth or all teeth, you've probably wondered what it would take to restore your oral health. The look and function of your smile can be rejuvenated with dental implants available at Willeri Dental.
What Is a Dental Implant?
A dental implant is an artificial root put into the jawbone to replace a missing root, which is then overlaid by a crown or a bridge.
Why Choose Dental Implants?
Dental implants are currently the best available option to replace missing teeth. There are many reasons why we place dental implants:
Replace missing teeth
Restore chewing and speaking ability
Restore smiles in the case of missing front teeth
Upgrade from an existing partial denture
Decrease stress caused by extra chewing pressure on the remaining teeth due to tooth loss
Restore facial proportions by filling out our lips and cheeks and restoring the natural height of our jaws
Implant for Crown & Bridge
Implant for Denture
The greatest advantage of a dental implant is that it relies on the underlying jawbone for support and does not affect the adjacent teeth.
Find Out More
If you'd like to learn more about whether this option is appropriate for you, contact our practice today. We'd be happy to discuss any questions you may have or get you booked for your first appointment.

Dental Implants Parkwood, Canning Vale, Riverton and Willetton | (08) 9457 8360